HOW TO REFRESH YOUR HOME FOR SPRING
After a depressing winter for most of us, I am so excited for the changing of the seasons. In addition, the storms over the past week have left us feeling a little bit trapped, both emotionally and physically, within our homes. In today's blog, I want to help get you excited for Spring, and will run you through the ten easiest ways to revamp your home for this new, beautiful time of year.
DECLUTTER AND CLEAN
Sounds obvious, but the spring clean is a classic for a reason! Use this time to Marie Kondo the hell out of your space. You don't necessarily have to chuck anything out – just put away things that aren't serving you right now, such as particularly 'wintery' pieces. You can be more minimalist during this springtime of the year, creating a cooler, fresher feel, so take advantage and get cleaning.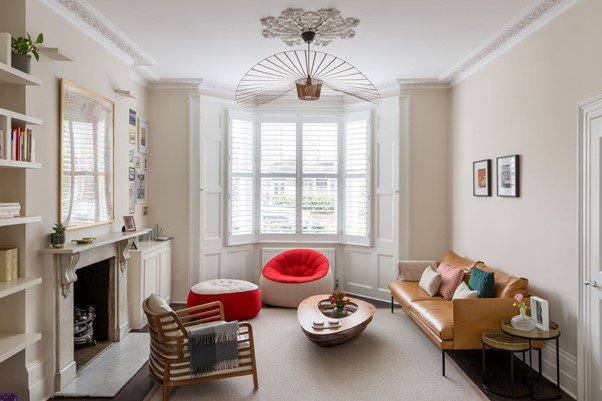 2. REARRANGE FURNITURE
Rearranging your furniture gives the feeling of new beginnings and reinvention without spending any money. Since less emphasis will be on cosying up by the fire, focus on moving things closer to windows to experience all this newfound warmth and sun. Play around with different arrangements and see what feels good – it might take a few days to get used to, so give yourself time to consider your new look.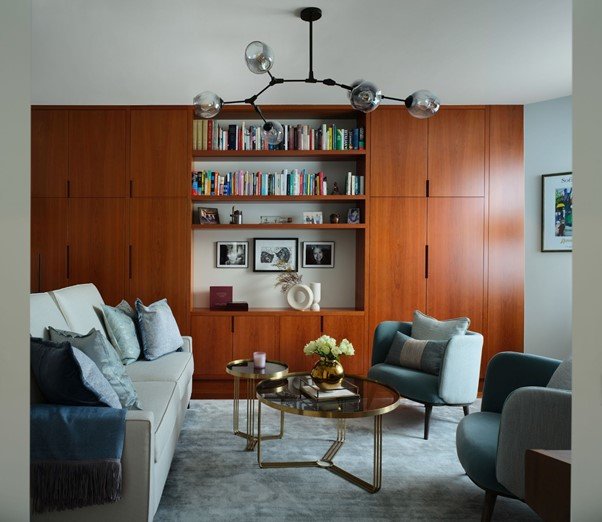 3. BRING THE OUTSIDE IN
A clichéd phrase, but still important. When you're on a budget, stock your decorative bowls with fruit and your vases with seasonal flowers (daffodils, violets, tulips), branches (small ones, not half a tree!) and greenery. You can find these in your garden, the local park, or go artificial from places like HomeSense. This will make your space feel more inviting, and will inject some colour into what can be a slightly more 'muted' time of year for interiors.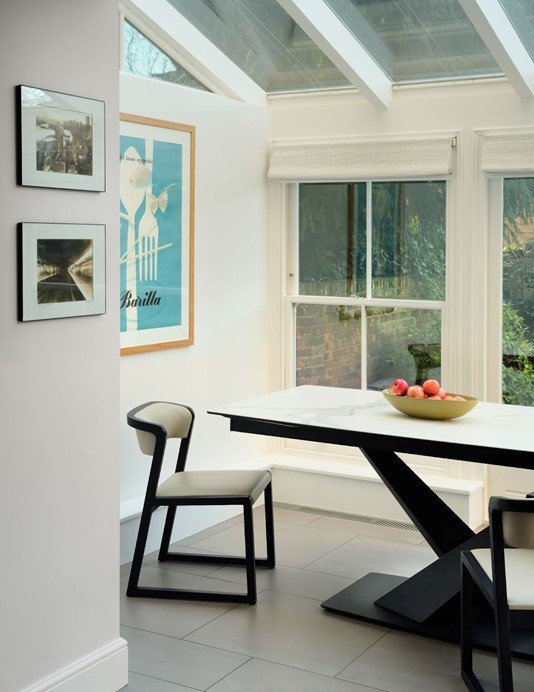 4. CANDLES AND ROOM SCENTS
If I had to associate this time of year with any particular aromas, it would be a combination of mowed grass, fresh cotton, baked hot cross buns, and delicate florals. Adding incense, reed diffusers and candles with these scents (or others – come up with your own!) can create a relaxing and inviting ambience. Plus, they add decoration too! Just make sure that fragrances don't clash with one another or become overpowering.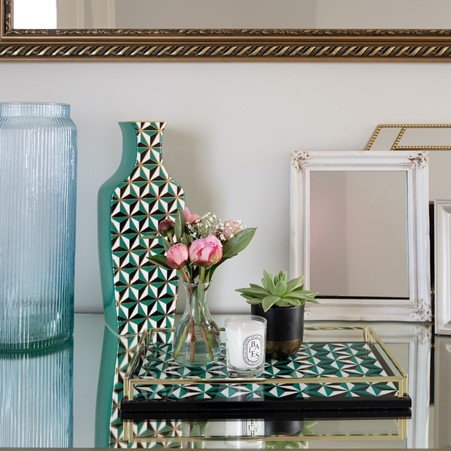 5. ACCESSORISE WITH SPRING-LIKE DÉCOR
Few have the time and luxury to completely rejig their interior every season, and that's not something I would recommend anyway. However, you might want to add décor pieces to create a slightly 'springier' feel. For example, put some decorative nests on table surfaces, lay down some wicker baskets or lanterns and swap your tea tray for a more rustic one. Think neutrals, pastels and woods, contrasted with bright colours and fresh shades of green. If you have slightly paler vases, use them. Get creative, but don't go overboard.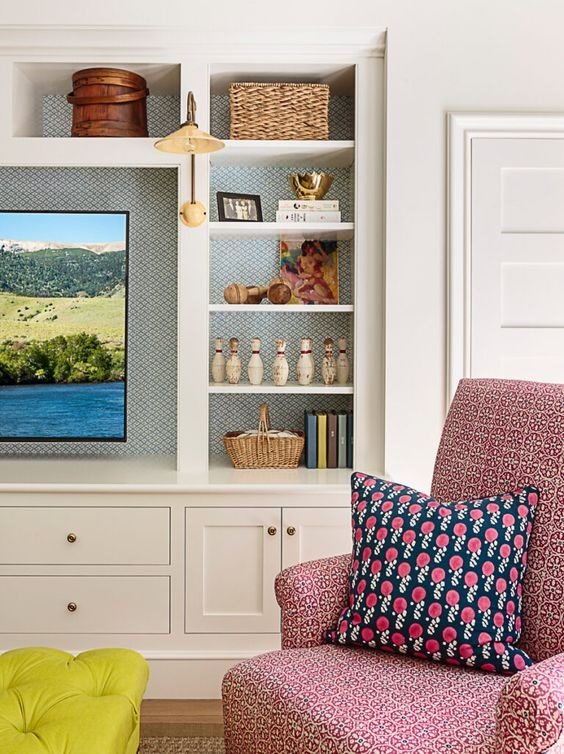 6. TABLESCAPING
I see Springtime as a celebration of life and bounty after a cold and dreary winter. Tablescaping is therefore a wonderful way to show this – making mealtimes feel really special, and allowing you to unleash some theatrical creativity. Layer your table with a floral or gingham tablecloth, runners, rattan placemats, embroidered napkins, candelabras, and fruit bowls galore. Stick to spring-themed colours and tones with pastels, greens, and natural finishes, and you're onto a winner. Find inspiration on Pinterest, and check out @tabledressup on Instagram for the prettiest tables you ever did see.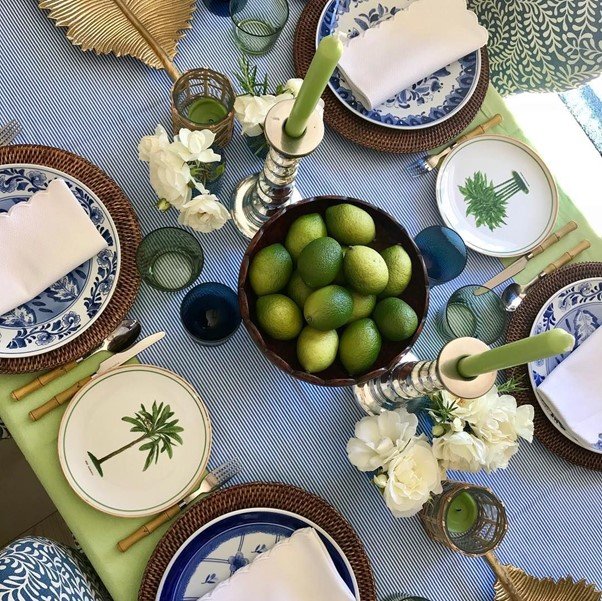 7. UPDATE YOUR ARTWORK
I don't believe one should have to change artwork with the seasons, but if you want to, I have a few suggestions:
Stick to natural themes, which aren't overly dark or vibrant in nature. Again, rusticity is key. Try botanical prints, vintage maps, paintings and florals. Woven tapestries are also a lovely addition. You want to keep your living room feeling familiar, but with additional artistic features.
For minimal effort, just change your frames from matching, harsh and black to something lighter, wooden or antiqued. Or add a few prints – framing vintage postcards from Etsy or Oxfam is a super-affordable alternative.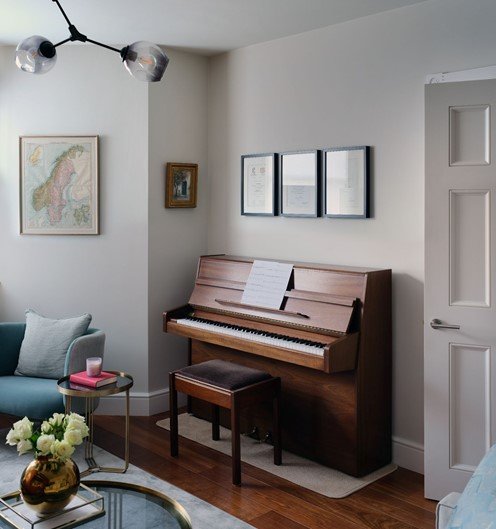 8. CHANGE YOUR HARDWARE
Sounds silly, but hardware can really change the look of a room. A couple of hours after moving into her new house, a friend of mine stumbled across a gorgeous, but very shabby, early 20th century dresser, that had been dumped outside. She took it in, and after lots of work, and some new, contemporary handles, it is a standout piece.
Gorgeous, hand-painted drawer pulls are easy to attach and can be found online for as little as £1. Try flower-shaped ceramic knobs and antiqued or brushed brass drawer pulls.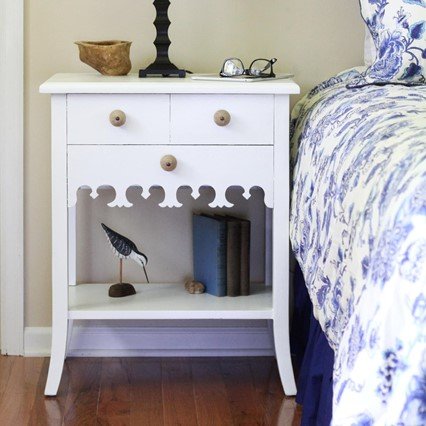 9. SWAP DARKER FABRICS FOR LIGHTER ONES (AND UPDATE YOUR LIGHTING!)
Store away overly-dark or 'rich' fabrics in favour of lighter, brighter ones. Consider throws, cushions, rugs, towels, curtains and bedding. Replace a black, furry rug with seagrass or rattan, and swap a few velvets for silks, cottons, linens and light wools. Patterns can be more floral, with pastels and/or vibrant colours.
Another way to update your fabrics is by mixing up lamps and their shades. Try matching pale lamps with colourful shades, or vice versa. These can be easily and cheaply sourced from places like Homesense, TK Maxx, and Facebook Marketplace. Once you've found some, pack away your darker ones in the loft and whip them back out next winter.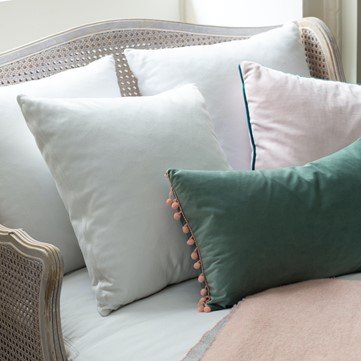 10. UPDATE YOUR WINDOW TREATMENTS
Gorgeous winter curtains can feel heavy in the springtime. Change them for a lighter linen, sheers, or swap entirely for blinds.
If your room is quite warm, you have lots of choices. Most blinds will work, but I would recommend a Venetian-style, as they'll be best at keeping the heat out. A wooden shutter will feel much more traditional but will emphasise the amount of light in the space. Just be aware that they can also be a dust trap.
With cooler rooms, use rollers or concertina-pleated blinds. If you want Roman blinds, have them in a thermal fabric, avoiding synthetic materials like vinyl or plastics.
If you want help sprucing up your space, why not book us for a 'designer for a day' consultation? We'll give you all the tools you need to refresh your home, sourcing pieces and finishes that will make your whole room come together.
Thanks for reading! Stay tuned for next month's blog on why you should hire a professional picture hanger.